In the 50's and 60's the United Stock Car Racing Club was as big if not bigger than NASCAR in the Northeast. During most of that time "Wild" Bill Greco had to be considered the KING of the Untited Stock Car Racing Club.
Billy started racing around 1949 at the West Haven Speedway. Billy soon was driving the "Sharkey" Gaudiosi #44 winning many races and 3 West Haven Championships. Bill and Tony Mordino put on fierce battles at the time, later becoming close friends.
Bill moved on to Riverside Park Speedway in 1960 which was the place to race at the time. Billy started racing his brother George's car around 1963 and made the #43 Modified Famous in the Northeast.
Bill won at most every track he raced, recording wins at West Haven, Riverside, Plainville Stadium, Rhinebeck, Lonsdale, Menands, Stafford Speedway, Waterford Speedbowl, Freeport, Eastern States Exposition Fairgrounds, Islip Speedway (where he won 5 straight races in one year) and the Pine Bowl (where he won 18 out of 20 features in a season, and other tracks. Recording more than 300 wins in his career.
Some of Bill's acclompishments include 3 West Haven, 2 Riverside Park, and the 1st Albany Saratoga Speedway Championship. Bill is 2nd on the all-time Riverside Parks Speedway wins list with 57 wins behind Reggie Ruggierio and 1st on the wins list during the United reign at Riverside. Bill also won 3 Riverside 500 Team races, being teamed with Danny Galullo, Bob Sterfanik and in 1965 Jocco Maggiacamo, which became the last race Jocco ever ran.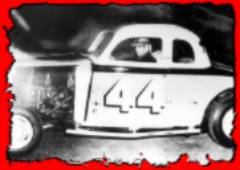 Billy in the 50's in Fred "Sharkey" Gaudiosi's Famous #44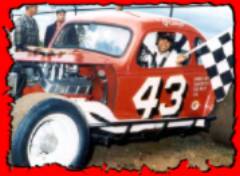 The Famous #43 after an Albany-Saratoga Speedway Victory.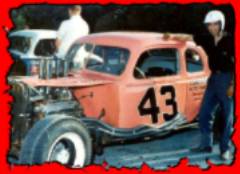 The Pink Tasmainian Devil, Bill's least favorite car was put out of its misery after being sold to Jo-Jo Farone. The car was destroyed after Jo- Jo flipped it numorous times down Plainville's front straight.