Pete Corey
---
Pete Corey was a top Dirt Track Modified Star of the 50's and 60's, occasionally driving in a asphalt modified race and showing he could drive as well on both. Pete did most of his racing in New York State at Lebanon Valley Speedway, Fonda and Albany-Saratoga Speedways .
During the 60's Pete was a regular at Stafford Speedway winning a total of 21 features between May of 1959 and October of 1966. Pete has the distinction of winning the first regularly scheduled NASCAR Dirt Modified race at Stafford Speedway on May 22, 1959 and the last NASCAR Dirt Modified race at Stafford Speedway on October 2, 1966.
---
Pete pictured in his Famous #3 during one of his infrequent visits to the Thompson, CT. Speedway.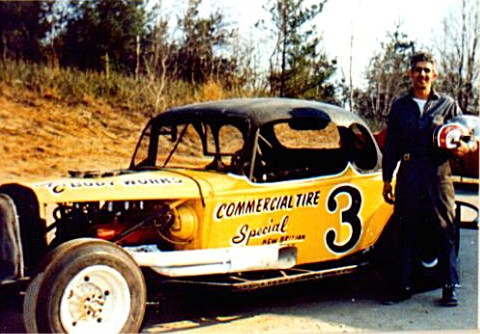 Photo from the Tom Loosemore Collection
---
CLICK ON THUMBNAIL FOR LARGER PHOTO
Photos from the DONN COTE & TOM LOOSEMORE COLLECTIONS
---
The Following was taken from the Pete Corey biography found on the DIRT website
Pete Corey
There is a certain something about anti-heroes, which appeals to many racing fans.
If you can defy authority, if you can cheat death, and if you can win with flare, you will become an inspiration to a vast segment of racing's faithful. Such is the story of Pete Corey.
Perhaps the most popular driver in modified racing's formative years, Pete Corey was fiercely independent. His frequent run-ins with officials, his daredevil driving style, his Errol Flynn-like swash buckling good looks and a colorful nickname "The Crescent Hillbilly" made him a hero.
And when he lost his left leg in a 1959 crash at Fonda, Corey's comeback elevated him from hero to legend. Not only was he as fast after the amputation as before, but he downplayed his own misfortune by carving a space in his wooded prosthesis and inserting a transistor radio. Corey would delight in confusing onlookers who couldn't determine the mysterious source of music.
Corey's moves on a racetrack were somewhere beyond brave. No gap was too narrow for him to fit his car through. Three-wide passes were a trademark. And that his car had to be equipped with a hand brake after he lost his leg seemed immaterial. When you watched Pete Corey, you got the impression that he never bothered to use brakes.
He began his career as a motorcycle racer and switched to stockcars at the old Burton Lake (NY) Speedway in the late 1940s. Corey won sporadically in the early '50s and then landed a ride with famed Schenectady, New York car owner Bob Mott in 1955. It proved to be a career-move that made him the hottest driver in New York, New Jersey and Connecticut.
Corey was tough on equipment and drove for a number of owners. But every car he hopped into became a winner.
His 1955 victory in the "Race of Champions" at Langhorne, Pennsylvania was the biggest of his estimated 250 feature wins. That triumph, against the best in the business, earned Corey's home track the reputation as "The Track of Champions", a nickname which Fonda (NY) Speedway still carries today.
He seemed to enjoy getting to the front in as few laps as possible. Pete Corey took relish in not only winning, but in winning by the biggest margin possible.
His style can be summarized in one win: the 1966 Lebanon Valley 200. Leading by a full lap with only a couple of laps to go, Corey nearly crashed himself out with a daring attempt to pass runner-up Frankie Schneider. Second-place Schneider was already one-lap down and Corey was hell-bent to put Schneider two laps down before the checkers flew.
Corey was the first big stock car star to emerge from New York's tradition-rich Albany area. His tremendous notoriety and popularity forced many Albany-area newspaper editors and electronics media programmers to look away from round ball sports for a moment and give racing the publicity it deserved.
But Pete Corey was never comfortable with publicity. He preferred the solitude of a fishing hole to the glare of an interview. Yet, despite his leanings toward being an independent loner, Corey would stand for hours next to his car, chatting with fans and signing autographs for kids.
To the pleasure of his legions of fans, Corey feuded with NASCAR throughout his career. Midway during the 1955 season, NASCAR outlawed pre?1935 bodies, insisting their roofs were not structurally safe. Corey blasted the organization, saying the rule was a ruse to get rid of his 1934 coupe, because the car was virtually unbeatable at the time.
In the 1960s, NASCAR recurrently fined Corey for running non-sanctioned shows. Corey's response: he continued to run the outlaw events under a fake name.
And in mid?1967, he quit NASCAR for three years when Daytona Beach officials took a Fonda win away from him and awarded it to Rene Charland. When Corey ripped up his NASCAR license and switched his home track to nearby non-NASCAR Lebanon Valley Speedway, he took thousands of fans with him.
Pete Corey was still winning late in his career. In his last full season, 1970, he won back-to-back features in the same pick-up ride at the Albany-Saratoga Speedway on blacktop one night and at Fonda on the dirt the next. He races a handful of times in 1971 and once in 1973, before hanging up his helmet for good.
In retirement from racing, Corey operated his own business, the Crescent Auto Body Shop. He pretty much divorced himself from the sport and only returned as a spectator on a couple of occasions.
---


Copyright ©2000 Racers Web Design
All rights reserved