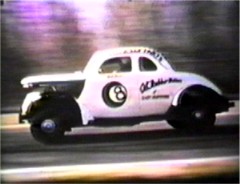 DICK DIXON
Although Dick never won a Riverside Park Championship, he is 13th on the all-time win list with 20 wins in 11 seasons between 1954 and 1965.
Dick did win the United Stock Cars Racing Club Circuit Championship and won the United Grand American Late Model Championship on several occasions. Dick also raced in NASCAR Grand National Division races in the South racing against such legends as Junior Johnson and Ned Jarret.
Dick was killed in a racing accident at the Thompson Speedway in the late 60's.


Click on Thumbnail for Larger Photo.
All Photos from the DONN COTE Collection



Copyright ©2000 Racers Web Design
All rights reserved
E-MAIL webdesign@racerworld.com
If You Would Like a Web Site Designed For You!